Newark
As we approach the New Year, Bernard China, 58, Newark, NJ, and his family and friends count their many blessings.
According to NJ Sharing Network officials, Bernard also takes time to reflect on the gift of life and the miracle of organ and tissue donation and transplantation as he celebrates the first anniversary of his heart transplant on December 30. who saved his life.
Bernard, his wife Constance and their five children have enjoyed being home together this holiday season as Bernard gets stronger every day.
"This Christmas was very special for me because I got to watch the children open their presents," said Bernard.
"For the past two years, I've had to watch FaceTime from the hospital, and it just wasn't the same. I feel blessed beyond belief to be alive and with those I love.
Officials say Bernard is now calling December 30 his "second birthday" to remember the date for his transplant at Newark Beth Israel Medical Center (NBI).
Bernard is also always aware of the altruistic decision made by his organ donor.
He proudly supports the efforts of the NJ Sharing Network to raise awareness of the importance of registering as organ and tissue donors to help save lives.
"Organ donors are heroes," said Bernard. "I wouldn't be alive today without my donor. I am extremely fortunate to have this second chance to live fully. "
Officials say Bernard feels lucky to be resuming many of his normal activities, such as attending church services and singing with the Mighty Royal Travelers, a gospel group that has performed across the United States and has songs on the scene. Spotify music streaming app.
"I feel good. I knew I couldn't do much for the first three months after the transplant, but I'm doing a lot more now, "said Bernard.
"The other day I used my leaf blower for a while and when I finished I was in a bit of pain but it wasn't too bad at all. I'm looking to get back not only 100%, but 200%, where I will come back stronger than ever.
According to the United Network for Organ Sharing (UNOS), nearly 4,000 New Jersey residents are waiting for a life-saving transplant. One person in New Jersey dies every three days while waiting for a transplant.
One organ and tissue donor can save eight lives and improve the lives of more than 75 people. To learn more, get involved and register as an organ and tissue donor, visit www.NJSharingNetwork.org.
Bernard's journey to transplantation
Officials at the NJ Sharing Network say the long road to Bernard's life-saving heart transplant began in August 2017, when he woke up during the night and found it difficult to breathe. Alarmed, he told Constance he was going to the hospital, but encouraged her to stay home with their children.
Authorities say tests showed fluid buildup in his lungs – a sign of heart failure. Diuretic drugs drained fluids from her body, but treatment was not enough. He was referred to the NBI's Advanced Heart Failure Treatment and Transplant Program.
"When Bernard came to see us, his heart was very weak and he was short of breath with his normal daily activities," said heart transplant cardiologist Saurabh Kapoor, MD, of the Advanced Heart Failure Treatment and Transplant Program. of the NBI. .
According to officials, a weak heart does not supply the body with enough oxygen-rich blood. As a result, the body begins to retain fluid, which can flow back to various organs, including the lungs.
Normally, the heart's pumping chamber ejects 65 to 75 percent of its blood with each heartbeat, officials say. Bernard's heart was only beating 8%.
Authorities say oral medications helped at first, but in November 2018, the blood's pumping ability became so weak that Bernard was put on continuous intravenous medication to help the heart contract.
Authorities say Bernard's condition was now severe enough that he began testing to qualify him for a heart transplant. Unfortunately, he suffered from prostate cancer, which required four months of radiation therapy before a transplant could be considered. During this time, he also had a stroke.
"For a long time, I was not eligible for a transplant because of all the other things that were going on," said Bernard.
Finally, around Labor Day 2020, he learned that he had qualified for the transplant list.
"Bernard was on the cusp of cardiogenic shock, when organs can start to fail," said Dr Kapoor. "He was very ill and had to stay in the hospital.
Due to the pandemic, officials said, family visits consisted of Bernard looking out the eighth-floor window to see Constance and the children waving from the parking lot.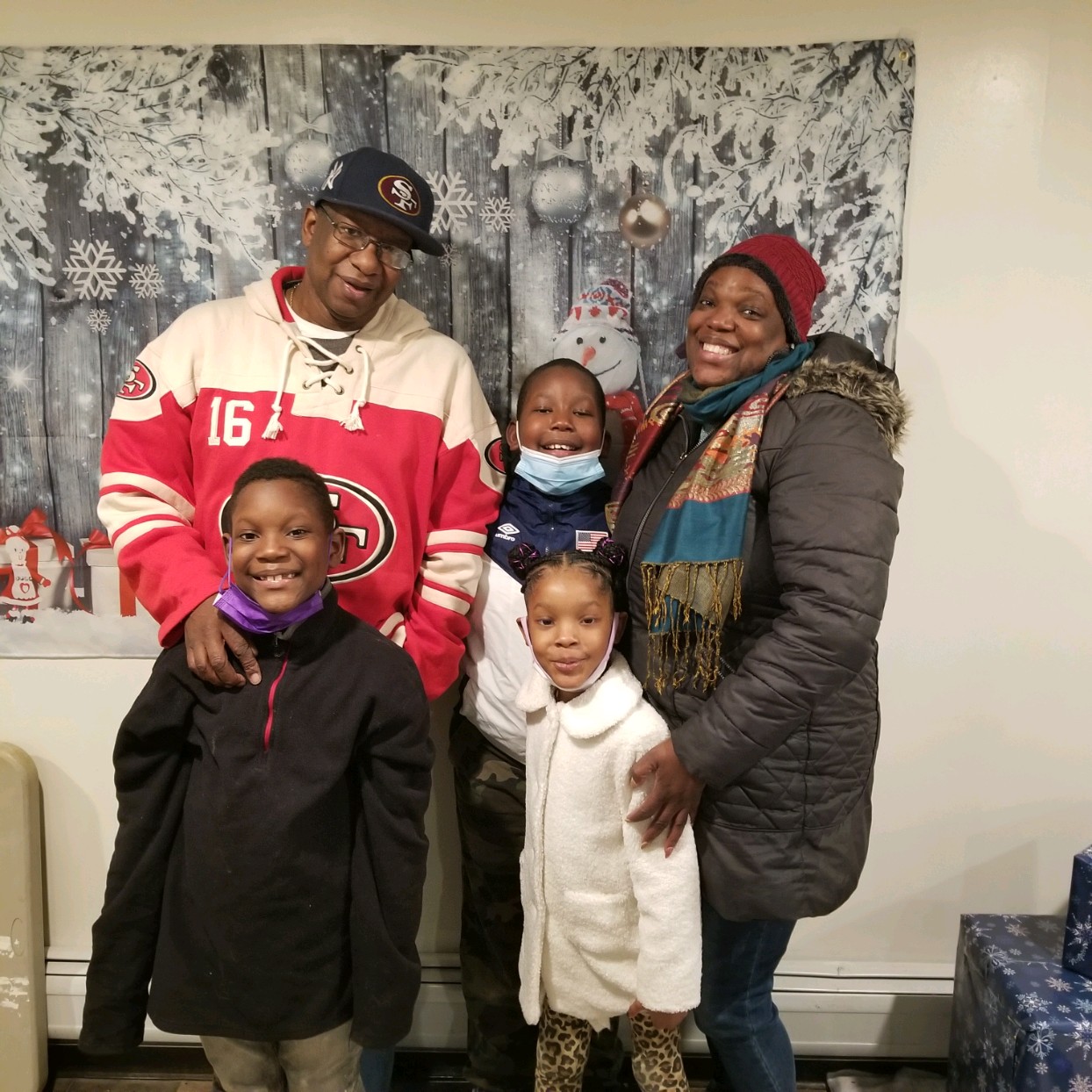 On the evening of December 29, 2020, Bernard was shot during a call with his wife, still awaiting a miracle transplant.
Officials say Constance urged him to build on the faith they shared, her as a preacher and he as a singer with the Mighty Royal Travelers.
"I didn't want to hear what she was saying because I just wanted to come home," Bernard said.
Constance insisted: "Bernard, it will come.
At 1:30 a.m., a nurse with a turned on cell phone approached Bernard's hospital bed and gently woke him up.
"Sir. China, Dr. Kapoor is online," she said.
Bernard woke up with a start and picked up the phone.
"Mister. China," said Dr. Kapoor, "we have your heart."
Bernard barely had any words. He called his wife, Constance, on her own phone. "
Listen, "he said, and asked Dr Kapoor to repeat his message.
The important call telling Bernard that he had a donor was also happy for Dr. Kapoor.
"It's an amazing feeling to call someone who might lose everything and say we've found a match," said Dr Kapoor.
Officials say now, as Bernard looks to the future, he is focused on raising awareness of the power of organ and tissue donation to help give others a second chance to enjoy more birthdays, holidays. and precious moments in life.